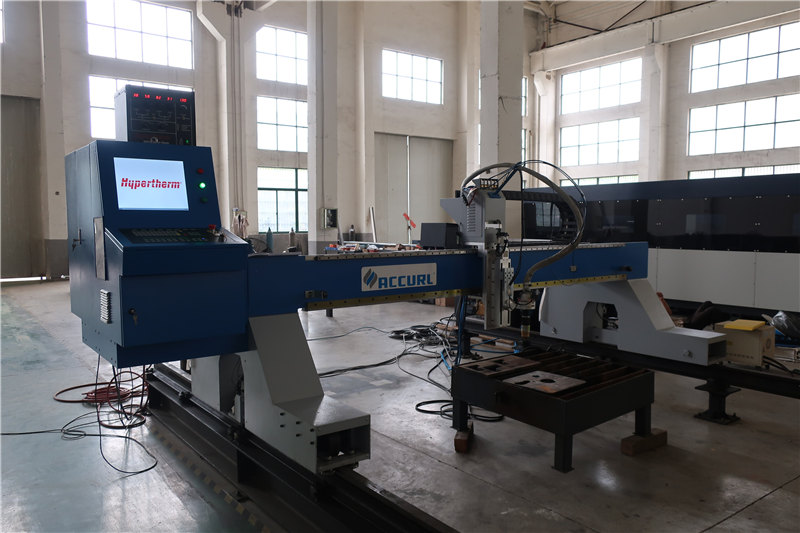 Plasma cutter Features
---
1. Feixe com design estrutural leve, a estrutura tem boa rigidez, peso leve, inércia de exercício e baixo custo.
2. Estrutura do tipo pórtico, acionamento síncrono de motor duplo do eixo Y e eixo XYZ com trilho circular (guia linear do tipo fórmula opcional), transmissão estável e alta precisão.
3. For advertising solid light, groove metal panel and bottom plate of the word for cutting, cutting accuracy
good indicator. If equipped with the U.S. Treasure plasma power can achieve lower laser cutting machine.
4. E outros dispositivos de publicidade (máquinas de moldagem a vácuo, máquina de corte de engrenagens) para formar um pipeline de processamento de palavras publicitárias, resolvem completamente a forma tradicional de processamento manual. Melhore a eficiência várias vezes.
5. Velocidade de corte, alta precisão e baixo custo.
6. Configuração do sistema CNC alta, arco automático, desempenho estável, a taxa de sucesso de arco de 99%.
7. Support Wentai, Beihang Haier, ARTCAM, Type3 software such as the standard G code path generated
file can also be read by software conversion software such ad AUTOCAD generated DXF formats. U disk
exchange control system processing files, easy to operate.
8. Plasma torch power supply and supporting all famous brands, a number of national patents by the
manufacturers.
Plama cutter 1325 Technical parameter
---
Model Parameter
cnc plasma cutter machine
Modelo
DEK-1325P
DEK-1530P
DEK-2040P
Tamanho de trabalho
1300 * 2500 mm
1500 * 3000 mm
2000*4000mm
Three axes Repeat positioning accuracy
± 0,05 mm
Precisão do processo
± 0,35 mm
Sistema de transmissão
X,Y Taiwan Hiwin high-precision,zero clearance increased linear guide+ rack
Z the arc voltage control
Max. cutting speed
15000mm/min
Working voltage
AC380/50HZ
Sistema de controle
Beijing START plasma cutting system
Standard high sensitivity arc voltage device
Software support
FASTCAM,AutoCAD,
Instruction format
G code
Drive system
Stepper motor (Optional Taiwan AC servo motor)
Plasma power
Domestic Huayuan 63A-200A
Imported US Powermax 63A-200A
Power cutting ability
Domestic Huayuan 0.5-30mm
US Powermax series 0.5-50mm
Working pressure
0.65-0.7Mpa
Plasma cutter 1325 applications industry:
Ship Building, Construction Equipment, Transport Equipment, Aerospace Industry, Bridge
Building, military industrial, wind power, Structural Steel, Boiler containers, Agriculture Machinery, Chassis electrical cabinets, Elevator manufacturers, Textile Machinery, Environmental protection
equipment,ect.
Plasma cutter 1325 applications Materials:
Todos os tipos de materiais metálicos, como aço, cobre, alumínio e aço inoxidável, podem ser processados. Aplica-se a chapa de ferro, chapa de alumínio, chapa galvanizada, chapa de aço branco, placas de titânio e assim por diante, como a chapa metálica.
After service of plasma cutter 1325
1.1 years quality guaranty, the machine with main parts(excluding the consumables) shall be changed
free of charge if there is any problem during the warranty period.
Manutenção 2.Lifetime gratuitamente.
Curso de formação 3.Free em nossa planta.
4.We will provide the consumable parts at an agency price when you need replacement.
5.24 horas de serviço on-line por dia, suporte técnico gratuito.
6.Máquina foi ajustada antes da entrega.
7.O nosso pessoal pode ser enviado para a sua empresa para instalar ou ajustar, se necessário.
RFQ
1.How could I know if this machine is suitable for me?
Before ordering, we will provided every details of the machine for your reference, or you could tell us your work piece, our technician will recommend the most suitable machine for you. Furthermore, we can make a sample in advance for you to check if your drawing is provided.
2. if the machine problems, how do you provide service?
First of all, we will immediately begin to give you solve the problem, if need to staff in the past to help solve, our stone carving machine after-sales staff will arrive within 3 working days (according to the distance).
3.how do you do what stone carving tools, how to get enough.
CNC engraving need cutting tools, we generally do not directly provide, we will call you from A partner, ordering tool directly by you. We try not to do, in order to reduce misunderstanding
4.If the machine has problems, what can you do to help?
Free parts will send to you within warranty time, and there are 24/7 technique support by mail and phone. Our after-sales staff can come to your workshop if the problem still can not be fixed.
5.how long does it take to machine a square meters relief?
Engraving machine working efficiency and the complexity of the design, processing depth, material processing and ease. So bad time estimates, carved in our company sample page with related practical sampling data for your reference.
---
fabricantes de máquinas de corte plasma cnc